22 februari 2019
S.O.S. Slaap: beter in bed?!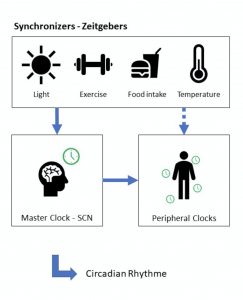 Hoewel er nog veel mysteries zijn rond de verschillende functies van slaap, geeft literatuur aan dat een gebrek aan slaap een belangrijke negatieve impact kan hebben op de algemene gezondheid. Veel voorkomende gevolgen van slaapdeprivatie zijn concentratie- en geheugenproblemen, obesitas, cardiovasculaire aandoeningen, hoge bloeddruk, depressie en vele andere aandoeningen. Daarbij worden slaapproblemen vaak gezien in chronische pijn populaties. Slaap wordt voornamelijk gecontroleerd door twee processen: "Proces S", of slaap homeostase en "Proces C", onze innerlijke klok of circadiaan ritme. Hoewel onze slaap/waak-cyclus bestaat uit 24 uur, zou ons biologisch ritme zonder externe cues, of "Zeitbergers" zoals eten, temperatuur, licht,… normaal 1 uur langer zijn!
Aangezien een slechte slaap een verstrekkende impact heeft op onder andere sociale, emotionele, gedragsmatige en executieve functies, is het dan ook evident dat de kinesitherapeut dit aspect niet links kan laten liggen. Binnen de setting is er steeds meer aandacht voor allerhande lifestyle factoren, zoals slaap, en hun invloed op de behandeling van de patiënt.
Tijdens de opleidingsdag  'Slaapmanagement' worden de deelnemers volledig ondergedompeld in de theorie en praktische aanpak van slaapproblemen binnen de klinische praktijk. We starten de dag met het overlopen van de belangrijkste slaapstoornissen. Daarna bekijken we de basisprincipes van de slaap, en leren de deelnemers dit toepassen binnen een educatiesessie voor de patiënt. Vervolgens gaan we verder in op het gebruik van een slaapdagboek (invullen, berekeningen, etc.), en de toepassing van slaaprestrictie, stimuluscontrole en reductie van medicatiegebruik. De dag wordt vervolgens afgesloten met een presentatie over de invloed van cognities en slaaphygiëne, waarna ook relaxatietechnieken kort worden aangehaald.
Wil je graag alles weten over Slaapmanagement, schrijf je dan in voor deze opleiding op 6 december met docenten dr. Anneleen Malfliet, Eveline Van Looveren & Thomas Bilterys (VUB).
https://2020.smarteducation.be/wp-content/uploads/2019/02/slaap-klein.jpg
1366
2048
Margo Wegge
https://smarteducation.be/wp-content/uploads/2020/02/Logo-SmartEducation-groot-voor-website-300x181.png
Margo Wegge
2019-02-22 13:49:56
2019-02-22 21:03:03
S.O.S. Slaap: beter in bed?!